"Thank you so much to you and the band for making our wedding so very special. Everyone has been saying how amazing you all were. It really was the highlight of my whole wedding. Thanks so much to you all for putting in the effort to learning the new songs. Your delivery was even better than I dreamed it would be." Marie Foley, Comic Relief 2017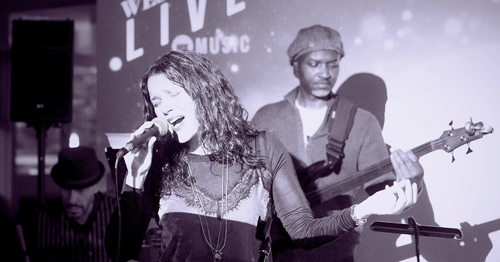 Personalised parties at your home or a venue of your choice. No party is too small for Your Private Party.
Loretta Heywood, is known for her vocals on the top 5 hit Winter in July with Bomb The Bass in 1991, as seen on Top of the Pops.
She works with members from bands including Transglobal Underground, Big Audio Dynamite, Massive Attack, Sophie Barker, Dubvocalizer and more, all hand-picked for their sound, but most of all their personality and great work ethic, people she can trust and enjoy working with. Together they form a loose collective called Five Shades. The line-up can be anything from an acoustic duo to a 4 or 5 piece band for house parties (see below), and a larger band, depending on the size and style of your party.
It all started while Loretta was working with Vince Power at the famous music venue, The KPH. Simon Godley heard the band and invited them to play at his highly respected, but small dentist surgery, at 42 Pembridge Villas, Notting Hill, and 'A Night at the Dentist' became a regular event. A few people from these intimate parties hired Loretta to play at their houses, and so Your Private Party was born.
PERSONALISED NIGHTS OUT:
We can create a bespoke party at a venue of your choice.
PERSONALISED NIGHTS IN:
If you want to hear great music in your own home, and have your own personalised party among friends and family, played by mature, professional musicians you can trust … then please get in touch. We play jazz, soul, reggae, motown and blues – set lists can be devised to suit your taste and the mood.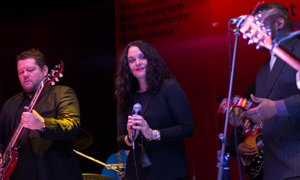 For lots more info on Loretta, or to watch a live gig, please go to lorettaheywood.com or her Facebook page for dates.
We look forward to entertaining you. Please get in touch if you are interested in having us play or help you organise your private party – no party is too small. Loretta x